This week, I'm waiting on...
A Thousand Nights
by E.K. Johnstone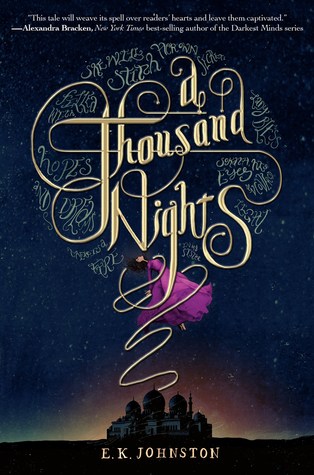 Expected publication: October 6th 2015
Genres: Fantasy; Retelling; Young Adult
Lo-Melkhiin killed three hundred girls before he came to her village, looking for a wife. When she sees the dust cloud on the horizon, she knows he has arrived. She knows he will want the loveliest girl: her sister. She vows she will not let her be next.

And so she is taken in her sister's place, and she believes death will soon follow. Lo-Melkhiin's court is a dangerous palace filled with pretty things: intricate statues with wretched eyes, exquisite threads to weave the most beautiful garments. She sees everything as if for the last time.But the first sun rises and sets, and she is not dead. Night after night, Lo-Melkhiin comes to her and listens to the stories she tells, and day after day she is awoken by the sunrise. Exploring the palace, she begins to unlock years of fear that have tormented and silenced a kingdom. Lo-Melkhiin was not always a cruel ruler. Something went wrong.

Far away, in their village, her sister is mourning. Through her pain, she calls upon the desert winds, conjuring a subtle unseen magic, and something besides death stirs the air.

Back at the palace, the words she speaks to Lo-Melkhiin every night are given a strange life of their own. Little things, at first: a dress from home, a vision of her sister. With each tale she spins, her power grows. Soon she dreams of bigger, more terrible magic: power enough to save a king, if she can put an end to the rule of a monster.



I'm so excited for this book! I LOVE retellings, and this one sounds so amazingly fabulous. AND THE COVER! Just look at it. It's. So. Beautiful!
So, I have a little question: WHY change the cover for the UK??
US vs UK
The US cover SCREAMS awesomeness. And the UK cover is… a feather. While purple is my favourite colour, seeing these covers next to each other there isn't much of a contest. Hopefully I'll be able to get my hands on the US version, but we usually get the UK covers over here in Ireland… so we'll have to see.
What do you think of A Thousand Nights? Do you plan on reading it? And, which cover do you prefer? Thanks for stopping by, and happy reading!
* Waiting On Wednesday is a weekly event, hosted by Breaking the Spine, that spotlights upcoming releases that we're eagerly anticipating. *