Today, I'm delighted to have author Sarah Nofkee join us on the blog to introduce her brand new dystopian series, The Reverians. She talks about creating the Reverians dystopian society, and be sure to watch the trailer for the first book in the series which releases today – Defects.
In the happy, clean community of Austin Valley, everything appears to be perfect. Seventeen-year-old Em Fuller, however, fears something is askew. Em is one of the new generation of Dream Travelers. For some reason, the gods have not seen fit to gift all of them with their expected special abilities.

Em is a Defect—one of the unfortunate Dream Travelers not gifted with a psychic power. Desperate to do whatever it takes to earn her gift, she endures painful daily injections along with commands from her overbearing, loveless father. One of the few bright spots in her life is the return of a friend she had thought dead—but with his return comes the knowledge of a shocking, unforgivable truth. The society Em thought was protecting her has actually been betraying her, but she has no idea how to break away from its authority without hurting everyone she loves.

Buy on Amazon.com || Amazon.co.uk



Creating the World of the Reverians
Dystopian is a genre I love to read, however, it's not something I ever pictured myself writing. I'm a sci-fi girl. I flock to fantasy. I'm partly liberal. Why in the hell would I ever want to write books about characters being oppressed by a government entity? And now after writing The Reverian series I have an answer: Because it's fun.
Let's be honest, breaking rules is fun. And breaking dumb rules, meant to disempower a society, is deliciously fun.
So when I started writing Defects I decided that there had to be a ton of rules. The more rules, the more things my characters could do to break them. In this series there are rules regarding schedules, food, appearance, dress, etiquette, jobs, bedtime, sleep habits…you get the point. If a human can do it, then the Reverians have a rule on it.
The Reverians are a society who love rules, starched appearances, religion and hierarchy. There's a uniform way men of a certain status must wear their hair. It is a law that if you dent your bike then you must fix it. Everyone must fix all mistakes, because the society firmly believes that the reminder of a mistake leads to more of them. And every rule is backed up with the reason that the gods deem it so. And strangely these gods appear to take on the political agenda of the government officials.
In Defects, I introduce a bubble society who think they've got it figured out. The President of the Reverians boast that his citizens live longer than others, make more money and are happier. However, only those who follow all the rules all the time are happy, and only because it's a rule that they must be satisfied. Then there are those who prefer a slouchier dress and a flexible schedule. These are the defective people in this world. They are the ones who I created to fix this seemingly utopian society which is actually quite fatally flawed.
Defects Trailer
Meet Sarah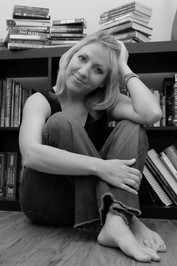 Sarah Noffke is the author of The Lucidite Series. She's been everything from a corporate manager to a hippie. Her taste for adventure has taken her all over the world. If you can't find her at the gym, then she's probably at the frozen yogurt shop. If you can't find her there then she probably doesn't want to be found. She is a self-proclaimed hermit, with spontaneous urges to socialize during full moons and when Mercury is in retrograde. Sarah lives in Southern California with her family.

Website || Twitter || Facebook || Goodreads
Thanks for stopping by, and Happy Reading!