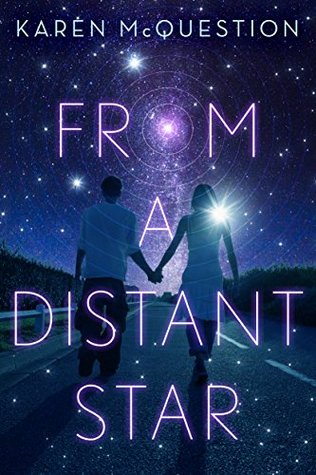 Title: From a Distant Star
Author: Karen McQuestion
Format: eARC, kindly provided
by the publisher, via
NetGalley (Thank you!!)
Series: Standalone
My rating: 2 / 5
Publisher: Skyscape

Seventeen-year-old Emma was the only one who hadn't given up on her boyfriend, Lucas. Everyone else—his family, his friends, his doctors—was convinced that any moment could be his last. So when Lucas miraculously returns from the brink of death, Emma thinks her prayers have been answered.

As the surprised town rejoices, Emma begins to question whether Lucas is the same boy she's always known. When she finds an unidentifiable object on his family's farm—and government agents come to claim it—she begins to suspect that nothing is what it seems. Emma's out-of-this-world discovery may be the key to setting things right, but only if she and Lucas can evade the agents who are after what they have. With all her hopes and dreams on the line, Emma sets out to save the boy she loves. And with a little help from a distant star, she might just have a chance at making those dreams come true.

-- As seen on Goodreads
My Thoughts
I'm so incredibly torn! From a Distant Star isn't a bad book, and I'd like to make that clear right from the start of my review. On the one hand, I really liked the concept: a young guy on his death bed miraculously makes a full recovery after a lengthy battle with cancer, and his recovery just happens to coincide with an alien crashing to Earth. It sounds amazing! But unfortunately, this is where my disappointment starts to creep in – it didn't live up to my expectations.
I think my expectations got a little confused somewhere between the awesomely beautiful book cover, and the synopsis. I love the Lux series by Jennifer L. Armentrout, and I was thinking From a Distant Star would turn out to be something along those lines, only the aliens wouldn't be glow worms. I was expecting a pretty full on alien Sci-fi novel, so I was a bit surprised that it reads like a contemporary novel with a couple of sprinkles of Spec-Fic here and there. I really liked the early chapters, and I thought things were going to progress really quickly. When the pages kept going by and nothing much was happening, my attention began to wander. The slow moving plot does have its advantages: it allowed plenty of time for detailed descriptions and plenty of back-story for the characters and other areas of the plot and world-building. And this is another thing that splits my opinion – I favour fast paced books, and I did feel bored quite a few times. However, all the details we do get are essential to the overall story! As with everything, it comes down to personal taste, and I think I would have been more engaged if the plot progressed a lot quicker.
Lucas's little brother, Evan, was easily my favourite character. He has a wise head on his shoulders, and considering he's only 14, he seemed like one of the most mature characters in the book. In general, with one huge exception, I thought the characters were portrayed really well, even though I didn't necessarily agree with what they did at times.
Unfortunately, my biggest problem with the book happens to be the main character and narrator, Emma. It might be a little surprising, but I originally liked and sympathised with her. Her boyfriend is dying, and she's the only one clinging to hope that he'll pull through. Grief can do some pretty crazy things to a person's personality, and seeing her denial portrayed as it is was quite believable. I can understand lashing out at those around you when you're hurting from grief – heck, I think many of us that has lost someone close to us will understand this. BUT! Lucas survives, and Emma doesn't snap out of her grief filled denial – she actually becomes insensitive, rude and hurtfully mean. It was like a complete one-eighty turn, and it felt incredibly strange and off-putting. Honestly, her attitude and her actions left me feeling very uncomfortable while I was reading, and it became so unbearable that I considered rage-quitting and abandoning the book on more than one occasion.
I wasn't convinced with the Lucas/Emma relationship, either. Emma takes every opportunity to convince us that they're the perfect couple, but it's incredibly hard to believe in their love story when we haven't witnessed any of the moments she's talking about first hand. I had no connection to Lucas, only second-hand accounts from Emma's perspective, and it felt very tell but no show.
As I said at the beginning, I don't think From a Distant Star is a bad book; it just didn't work for me. Overall, I liked the concept, but I don't feel my expectations were fully met.