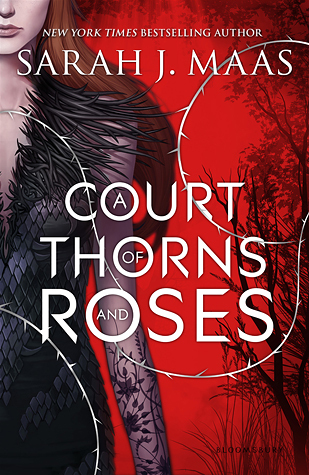 Title: A Court of Thorns and Roses
Author: Sarah J. Maas
Series: A Court of Thorns and Roses, #1
Format: eARC, kindly provided
for a review by Bloomsbury UK
via NetGalley (Thank you!!)
My rating: 5+ / 5
Publisher: Bloomsbury UK

A thrilling, seductive new series from New York Times bestselling author Sarah J. Maas, blending Beauty and the Beast with faerie lore.

When nineteen-year-old huntress Feyre kills a wolf in the woods, a beast-like creature arrives to demand retribution for it. Dragged to a treacherous magical land she only knows about from legends, Feyre discovers that her captor is not an animal, but Tamlin—one of the lethal, immortal faeries who once ruled their world.

As she dwells on his estate, her feelings for Tamlin transform from icy hostility into a fiery passion that burns through every lie and warning she's been told about the beautiful, dangerous world of the Fae. But an ancient, wicked shadow grows over the faerie lands, and Feyre must find a way to stop it . . . or doom Tamlin—and his world—forever.

Perfect for fans of Kristin Cashore and George R. R. Martin, this first book in a sexy and action-packed new series is impossible to put down!



-- As seen on Goodreads
My Thoughts
If I could sum up A Court of Thorns and Roses in one word, it would be perfection. Epicness, awesomeness and Best Book of 2015 would also work, too! Oh gosh, I LOVED it so much! There aren't enough words to describe how epic every element of the book actually is. The writing, world-building, the love story, the characters… each and every element was utter perfection, and the amount of emotions I went through… it's simply stunning! I know it's a little early in the year, but I honestly think A Court of Thorns and Roses will be my favourite book of 2015!
A Court of Thorns and Roses (ACoTaR) is a Beauty and the Beast retelling, and I LOVED how the original tale is incorporated and moulded into a completely new, vibrant, intricate and fascinating faerie world. I was a little afraid that I'd end up comparing it to the Throne of Glass series, but thankfully, I didn't! It's just as awesome in every way, but there is a completely different vibe right from the beginning: it has a distinct Mature YA/New Adult feel. Now I have a new bench mark for the NA genre, and I already fear nothing will be able to measure up! THIS is what I always hoped the New Adult genre would be: phenomenal YA-style storytelling, with the age restrictions and limitations of the 'YA' tag removed. It was simply amazing and everything I hoped it would be!
I absolutely adore Maas' writing style in the Throne of Glass series, and when I began reading ACoTaR, and saw that this book was written in the first person, I was really curious to see how it would pan out. I shouldn't have worried: I LOVED it! She's masterful at creating crystal clear imagery with only a few perfectly chosen words, and I loved seeing through Fayre's eyes, and experiencing a world Maas created through a different style. Plus, how she manages to effortlessly ratchet up the tension and convey so much information so quickly and clearly… it's so awesome to read!
I've got to say, the characters here are simply AMAZING! Each character has light and shade. They aren't clear cut 'good' or 'bad', and I absolutely LOVE it! Every character we meet leaves an impact, from the mercenary in the early chapters, to Alis (pronounced Alice) later on in the story, and I love that each and every one has a purpose and leaves a lasting impression.
Fayre and Tamlin
Firstly, Fayre (pronounced Fay-ruh). Ohh my gosh, I LOVE this girl! At the beginning, I did get a few Katniss Everdeen vibes, but she grew into her own character as the story developed. She's our narrator, and I connected with her really early on. I think it was around the time she went into local village with her sisters in chapter three-ish… I felt so much empathy and sympathy toward her. She's a survivor, and I loved how tenacious, stubborn and determined she is. She has buckets of courage, and I loved seeing her character grow and develop. Plus, let's not forget that she's a total bad-ass! My heart was in my mouth during the last section of the book… holy crap, it was intense, but oh so awesome!
And, Tamlin. *Fans -self* Oooh boy! Wow. He's… he's… how in the world do I describe him without turning into fangirling mush?! I don't think anything I can say will do him justice! He's the prefect representation of Beast, yet there's a lot more to his character. He gives of the calm, quiet, man of few words and a little socially awkward vibe, yet underneath this you can see he's lethal. Very, very lethal. My initial impressions weren't exactly favourable toward him… but, as you can probably tell, that changed! Once his walls started coming down, he's adorable! When he transforms into flirty Tamlin… *melts and dieees* Ok, you know what? Just go read the book! He's a character you NEED to meet! RIGHT! NOW!
I love the relationship between Fayre and Tamlin, and I'm completely smitten with these two: they're perfect for each other! The first 50-60% of the book is dedicated to establishing the characters, and the majority of the focus in on both the world-building, and Fayre and Tamlin's relationship. This part was a lot slower paced than I was expecting, but I wasn't bored at any stage. Once the actual romance developed… wow, just, WOW! *fans-self* It's epic. EPIC, I tell ya!
Lucien
I freaking LOVE Lucien, not gonna lie! It took me a while to warm up to him – he's a bit of a frosty asshole at the beginning – but once we get to see the guy he is underneath the thorny exterior, he's a fabulous character! He's a little witty, a little sarcastic and snarky, a little hot headed and a whole load of hilarious! I love how his personality constantly unfolded, and we got to learn something new about him all the time. I particularly loved the interactions between Fayre and Lucien: I love characters with a great sense of humour, and the banter between them was fabulous! I loved how he brought Fayre out of her shell, and in a way, she returned the favour.
Rhysand
Why, oh why, do I always end up falling for characters with wings?! Rhysand is definitely charismatic! And… oh alright, I'll admit it… he's kind of yummy in an evil sort of way. Admittedly, Rhys isn't exactly a likeable character, but for the life of me, I can't figure out why he's so appealing! I don't know what to make of him… but I really likey! I cannot wait to see how is character develops over the series.
If felt like the book was in two halves: the start is nice and calm, and then all hell slowly begins to break loose. The entire build up to the ending is simply stunning, and left me completely breathless. It's intense, brutal, and completely EPIC! And waiting to see what the outcome would be was so stressful! I was completely wrapped up in the story and so desperate to know what would happen: one moment you're left reeling, then swooning, laughing, crying, worried… I love it. Plus, no cliff-hanger ending! This story is wrapped up perfectly, yet leaves a couple of hints that this book is only the beginning. I can't wait to see what happens next! If you don't have A Court of Thorns and Roses on your to-read list, please, please, please, add it and read it as soon as you can – I don't think you'll be disappointed!
*I received an eARC from the publishers via Netgalley in exchange for an honest review. This didn't influence my opinion in any way.*