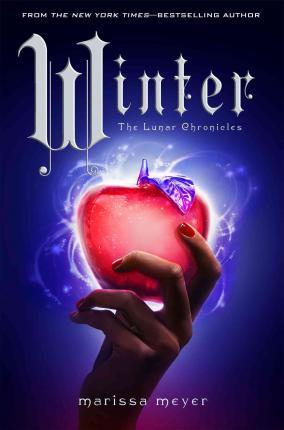 Title: Winter
Author: Marissa Meyer
Series: The Lunar Chronicles, #4
Format: Paperback, bought
My rating: 3 / 5

Princess Winter is admired by the Lunar people for her grace and kindness, and despite the scars that mar her face, her beauty is said to be even more breathtaking than that of her stepmother, Queen Levana.

Winter despises her stepmother, and knows Levana won't approve of her feelings for her childhood friend—the handsome palace guard, Jacin. But Winter isn't as weak as Levana believes her to be and she's been undermining her stepmother's wishes for years. Together with the cyborg mechanic, Cinder, and her allies, Winter might even have the power to launch a revolution and win a war that's been raging for far too long.

Can Cinder, Scarlet, Cress, and Winter defeat Levana and find their happily ever afters?

-- As seen on Goodreads
My Thoughts
Reading the final book in a series is a bitter-sweet moment. I always hope for a satisfying conclusion, and while WINTER did deliver this to a certain level, I can't help feeling it was missing so many of the elements that made this series awesome in the first place. And, oh boy do I feel like the odd one out saying this! Looking at the sea of 5 star reviews before I began reading set me up for quite a bit of disappointment. I don't know if I read a completely different book, but personally, I thought WINTER was the weakest book in the series.
Putting this bluntly, the book was far too long and drawn out. We get hundreds of pages of unnecessary build-up and not enough pages dedicated to any sort of concrete or epic conclusion. If the book had been condensed by a few hundred pages, I doubt we would have missed out on anything important. I was expecting so much more than what we got, but the biggest surprise I had was being bored out of my mind for well over half of the book! By the time I got to the 500 page mark I was wishing for the book to end. Let me tell you, that definitely was NOT the reaction I was expecting to have while reading the conclusion to this series!
In the previous books, I thought the author did an excellent job point-of-view-juggling between all the main characters. But for me, WINTER is the book where all the POV-juggling fell completely flat. I remember counting 10 different POV's over the course of this book – Winter, Cinder, Jacin, Kai, Levana, Cress, Iko, Thorne, Scarlet and Wolf – and there could have been more I've forgotten about – and for me, this was a bit overkill. Now, granted, this could be a personal taste thing as I greatly prefer books with fewer POV's in general … but I did think CRESS was handled excellently, and comparing WINTER to its immediate predecessor, this book didn't deliver to the level already set.
With so many dominant characters introduced over the course of the series, it was difficult for each voice to shine through clearly without drowning out someone else. Considering each of the previous books in the series has been dedicated to one of the main characters, I was very surprised that Cinder took up the majority of the spotlight in Winter's book. Personally, I thought there was far too much Cinder and not enough everyone else and I know that'll be an unpopular opinion. I'm also a bit shocked that Winter didn't have a much bigger role to play in the finale than she did. Also, there was something a bit… off… about the relationship between Winter and Jacin. Now, I get that they have a past and their relationship was already formed before we get to see their story, but I didn't really feel any bond of love or affection between either of them.
It's no secret that Scarlet is my favourite character, and once again she proved what a smart, ballsy, sassy badass she truly is. I absolutely LOVE her character, and I'm so thankful she was introduced into the series. Cress is another character I adore, and she comes in a very close second to Scarlet. Now, here comes my problem: Wolf and Thorne. Thorne didn't seem like the same person as he was in the previous books, and Wolf… oh where do I even begin? Purely to avoid spoilers I won't mention anything more, but if you've read the book, you might be able to guess what I'm saying.
Oh, and just for the record? I still haven't clicked with either Cinder or Kai. It always sucks when you don't click with the main characters in a series, and it's even more unfortunate when the vast majority of an 800+ page multi-POV book revolves around the characters you have no feelings for.
I've always classed The Lunar Chronicles as being one of the more unique YA series of recent years, so I was quite shocked to see your standard tried-and-true-been-there-done-that dystopian ending emerge. Add in the similarities to Mockingjay (and The Hunger Games trilogy in general) – the 'districts' disguised by other names, the Capitol, the Lunar's crazy fashion sense, Levana turning into Snow... I don't know, I guess I had hoped for a truly unique ending to do this series justice, and I just don't feel we got that.
I'm very conflicted right now. Overall, I did like WINTER, but the ending wasn't as strong or impactful I had anticipated. I guess my real rating would be closer to 2.5 stars, but I'm rounding up to 3 as I can't bear rating a book in this series lower than that! And also it's for Scarlet's sake. As I mentioned earlier, she's my favourite character and her book still remains my favourite in the series. I do wish I had a better reaction to reading WINTER, but The Lunar Chronicles as a whole will always remain beloved series in my heart, even if the ending wasn't as strong as I had hoped it would be.